A Midsummer Nights Festival
City:
Saint Petersburg
Cinemas:
Avrora
Dates:
21 June – 1 July 2016
Partners:
British Council
CoolConnections
The UK-Russia Year of Language and Literature 2016
and Shakespeare Lives International Program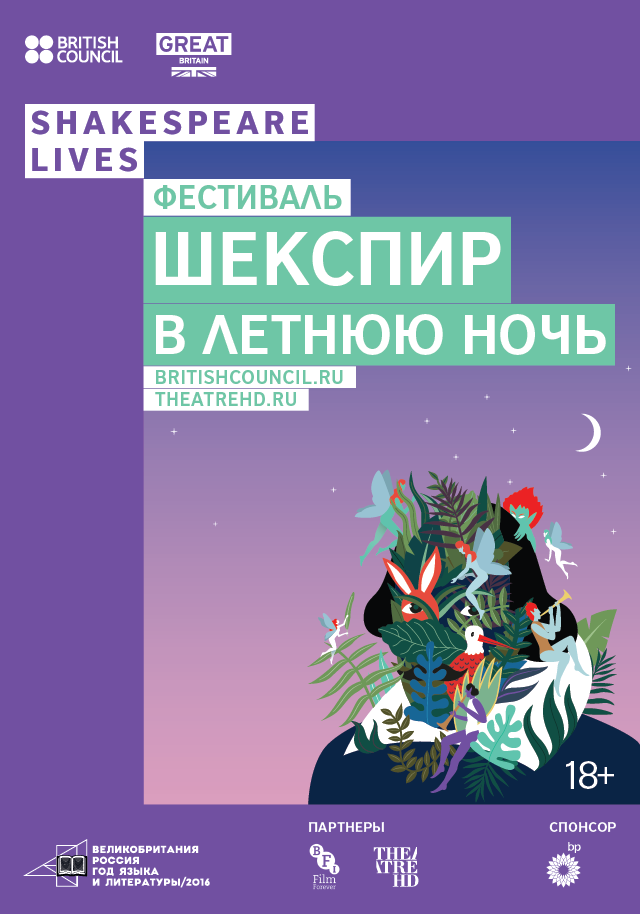 Choose city for details:
Midsummer Nights Festival is a highlight of Shakespeare Lives, the British Council's global celebration of Shakespeare's life and work to mark the 400th anniversary of his death. Shakespeare's legacy as a writer and chronicler of the human spirit remains undimmed and each year sees new stage and screen adaptations appearing in theatres and cinemas around the world.
To launch the Midsummer Nights Festival, Ian McKellen is travelling to Russia to present his solo show Shakespeare on Stage, Screen and Elsewhere. The renowned actor will discuss his impressive range of Shakespearean performances, starting with Malvolio in Twelfth Night at the age of 12, to more than half of Shakespeare's canon on stage. On 22 June at the Gogol Centre Theatre, Ian McKellen will also present his screen appearance as Richard III, recently re-presented by the BFI in cinemas and re-released on DVD.
The heart of the six-day festival – a retrospective of British screen adaptations of Shakespeare's plays and related events – will take place at MUZEON Art Park on 22-26 June. This will be a chance to see some of the finest cinematic adaptations of Shakespeare's work and attend lectures that will place the plays in the context of their times both culturally and historically. The programme is part of the British Council's and British Film Institute's Shakespeare on Film component of the Shakespeare Lives global programme, supported by the GREAT Britain campaign.
Audiences will have a chance to see Play On! Shakespeare in Silent Cinema, the BFI's collection of short silent films showing the first brave attempts of the pioneers of British cinema to adapt Shakespeare's plays, which will be accompanied live by a Moscow ensemble. Henry V (1944) is a classical patriotic masterpiece by Laurence Olivier, brimming with pageantry, battles and political deception. A pearl of the programme is a 4k restored version of one of the most famous screen adaptations of Shakespeare, Romeo and Juliet (1968) by Franco Zeffirelli, with a brilliant soundtrack by Nino Rota and profound performance by Leonard Whiting, who will present the film in person.
While these films represent classical interpretations of Shakespeare's works, another part of the programme presents experimental and even provocative approaches. Macbeth (1971) by Roman Polanski reflects his nightmarish vision of the classical tragedy about the lust of power and bloody consequences. Kenneth Branagh's take on Much Ado About Nothing (1993) is testament to his creative abilities. Finally, Theatre of Blood (1973) by Douglas Hickox is a horror comedy in which famous Shakespearean murder scenes are re-enacted.
In partnership with CoolConnections, the British Council will also bring the Midsummer Nights Festival to Ekaterinburg (23-29 June, Salyut Cinema) and St Petersburg (25 June-1 July, Aurora Cinema).
Plays