Sherlock:
The Abominable Bride
City:
Moscow
Cinemas:
Baltika
CINEMA PARK Filion
Cinema Park Kaluzhskiy
Cinema Park Metropolis
Documentary Film Center
Fitil Kinoclub
Formula Kino CDM
Formula Kino Chertanovo
Formula Kino Europa
Formula Kino Horizont
Formula Kino Praga
Formula Kino Rublevka
KARO 11 Oktyabr
KARO 7 Atrium
KARO Sky 17 Aviapark
KARO Vegas 22
KINO OKKO Afimoll City
Kinosfera
Kinostar De Luxe at MEGA Teply Stan
Kinostar De Luxe Mega Khimki
Kinostar New York Belaya Dacha Mall
KOSMIK Annino
Kronverk Cinema Lefortovo
Luxor Center
Luxor Gudzon
Luxor Vegas
Luxor Vesna
Mirage Cinema at MARI Shopping Center
Mori Cinema Kuntsevo
Zvezda
Dates:
4–17 January 2016
Partners:
CoolConnections art-group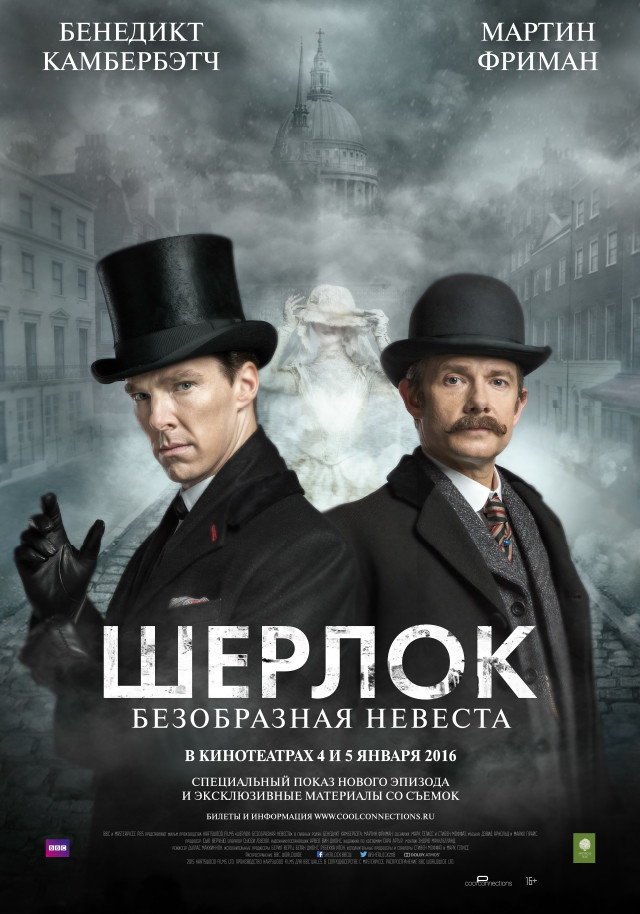 Choose city for details:
Шерлок: Безобразная невеста

Sherlock: The Abominable Bride
Country: UK
Year: 2016
Director: Douglas Mackinnon
Cast: Benedict Cumberbatch, Martin Freeman, Rupert Graves, Una Stubbs, Louise Brealey, Amanda Abbington
Genre: crime
Language: English
Translation: russian subtitles
Time: 1 hour 54 minutes
Возраст: 16+

"Dr John Watson, meet Mr Sherlock Holmes."
We've been here before - but what if this wasn't the modern day but the late Victorian period? What if the world's most famous consulting detective and his best friend lived in a Baker Street of steam trains, hansom cabs, top hats and frock-coats?

Welcome to 'Sherlock' in 1895!
Images
Schedule:
3 January, Sunday
00:05
Sherlock: The Abominable Bride
Kinostar New York Belaya Dacha Mall
Kinostar De Luxe at MEGA Teply Stan
00:30
Sherlock: The Abominable Bride
4 January, Monday
13:00
Sherlock: The Abominable Bride
Mirage Cinema at MARI Shopping Center
15:00
Sherlock: The Abominable Bride
16:30
Sherlock: The Abominable Bride
17:00
Sherlock: The Abominable Bride
17:50
Sherlock: The Abominable Bride
18:30
Sherlock: The Abominable Bride
19:00
Sherlock: The Abominable Bride
19:15
Sherlock: The Abominable Bride
19:30
Sherlock: The Abominable Bride
19:45
Sherlock: The Abominable Bride
19:50
Sherlock: The Abominable Bride
20:00
Sherlock: The Abominable Bride
20:50
Sherlock: The Abominable Bride
5 January, Tuesday
13:00
Sherlock: The Abominable Bride
Mirage Cinema at MARI Shopping Center
15:00
Sherlock: The Abominable Bride
16:30
Sherlock: The Abominable Bride
17:00
Sherlock: The Abominable Bride
18:00
Sherlock: The Abominable Bride
18:25
Sherlock: The Abominable Bride
18:30
Sherlock: The Abominable Bride
18:45
Sherlock: The Abominable Bride
19:00
Sherlock: The Abominable Bride
19:30
Sherlock: The Abominable Bride
19:45
Sherlock: The Abominable Bride
19:50
Sherlock: The Abominable Bride
20:00
Sherlock: The Abominable Bride
21:00
Sherlock: The Abominable Bride
6 January, Wednesday
16:50
Sherlock: The Abominable Bride
20:00
Sherlock: The Abominable Bride
21:00
Sherlock: The Abominable Bride
21:20
Sherlock: The Abominable Bride
7 January, Thursday
16:40
Sherlock: The Abominable Bride
21:00
Sherlock: The Abominable Bride
8 January, Friday
15:00
Sherlock: The Abominable Bride
16:50
Sherlock: The Abominable Bride
21:20
Sherlock: The Abominable Bride
9 January, Saturday
17:30
Sherlock: The Abominable Bride
21:00
Sherlock: The Abominable Bride
21:20
Sherlock: The Abominable Bride
10 January, Sunday
13:00
Sherlock: The Abominable Bride
15:00
Sherlock: The Abominable Bride
16:40
Sherlock: The Abominable Bride
21:00
Sherlock: The Abominable Bride
12 January, Tuesday
19:30
Sherlock: The Abominable Bride
Kinostar New York Belaya Dacha Mall
Kinostar De Luxe at MEGA Teply Stan
20:00
Sherlock: The Abominable Bride
21:00
Sherlock: The Abominable Bride
13 January, Wednesday
19:30
Sherlock: The Abominable Bride
20:00
Sherlock: The Abominable Bride
21:00
Sherlock: The Abominable Bride
14 January, Thursday
19:30
Sherlock: The Abominable Bride
15 January, Friday
19:30
Sherlock: The Abominable Bride