Imagine – Life Spent on the Edge
Dates:
11–28 April 2014
Partners:
CoolConnections
My Planet TV Channel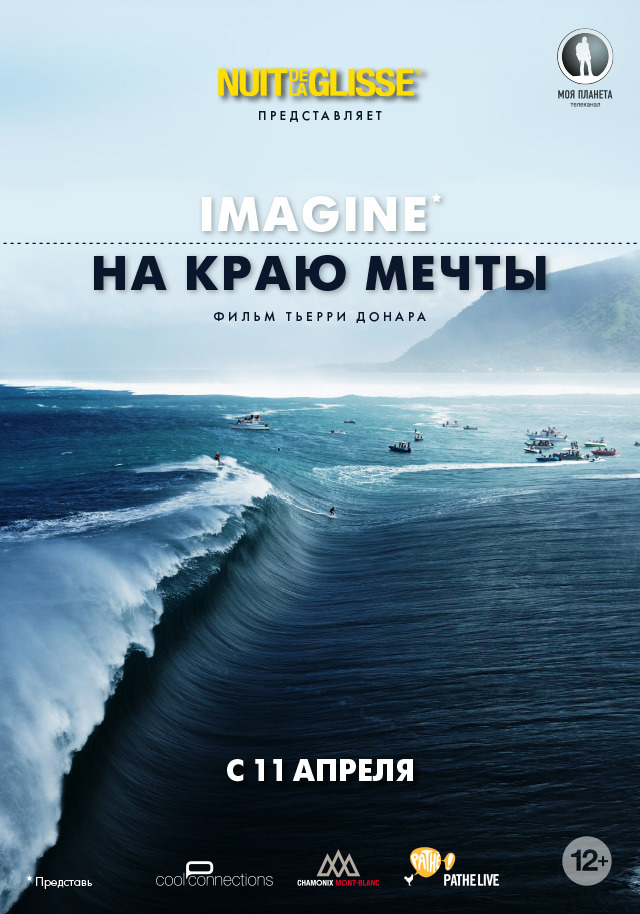 Choose city for details:
На краю мечты

Imagine – Life Spent on the Edge
Country: France
Year: 2013
Director: Thierry Donard
Genre: documentary
Language: French, English
Translation: Russian subtitles
Time: 1 hour 35 minutes
Возраст: +

An entire life lived on a knife's edge... forever dreaming up new adventures, new projects.
Thierry Donard and his team have set out to bring you closer to these modern day heroes, to share their lives and their emotions with you. 95 minutes to discover for yourself the passion of this special world, bringing you to the heart of the action.
Images
Schedule:
8 April, Tuesday
11 April, Friday
19:00
Imagine – Life Spent on the Edge
Moscow: Formula Kino Chertanovo
Syktyvkar: Kronverk Cinema Maxi
Moscow: Kronverk Cinema Lefortovo
Saint Petersburg: Formula Kino Neo
Novosibirsk: Formula kino Aura
Murmansk: Kronverk Cinema Forum
Saint Petersburg: Formula Kino Galleria
Saint Petersburg: Formula Kino Zhemchuzhina
Saint Petersburg: Formula Kino Peterland
Ryazan: Formula Kino Victoria Plaza
Moscow: KINO OKKO Afimoll City
12 April, Saturday
17:00
Imagine – Life Spent on the Edge
Moscow: Kronverk Cinema Lefortovo
Saint Petersburg: Formula Kino Peterland
Moscow: KINO OKKO Afimoll City
Moscow: Formula Kino Chertanovo
Saint Petersburg: Formula Kino Galleria
Syktyvkar: Kronverk Cinema Maxi
Saint Petersburg: Formula Kino Neo
Novosibirsk: Formula kino Aura
Murmansk: Kronverk Cinema Forum
Ryazan: Formula Kino Victoria Plaza
Saint Petersburg: Formula Kino Zhemchuzhina
13 April, Sunday
17:00
Imagine – Life Spent on the Edge
Syktyvkar: Kronverk Cinema Maxi
Novosibirsk: Formula kino Aura
Murmansk: Kronverk Cinema Forum
Ryazan: Formula Kino Victoria Plaza
Moscow: KINO OKKO Afimoll City
Moscow: Formula Kino Chertanovo
Moscow: Kronverk Cinema Lefortovo
17 April, Thursday
19:00
Imagine – Life Spent on the Edge
18 April, Friday
19:00
Imagine – Life Spent on the Edge
Saint Petersburg: Formula Kino Galleria
19 April, Saturday
17:00
Imagine – Life Spent on the Edge
Moscow: Kronverk Cinema Lefortovo
20 April, Sunday
17:00
Imagine – Life Spent on the Edge
21 April, Monday
19:00
Imagine – Life Spent on the Edge
28 April, Monday
20:30
Imagine – Life Spent on the Edge