Irish Week:
Irish Film Festival
City:
Moscow
Cinemas:
KARO 11 Oktyabr
Dates:
16–27 March 2016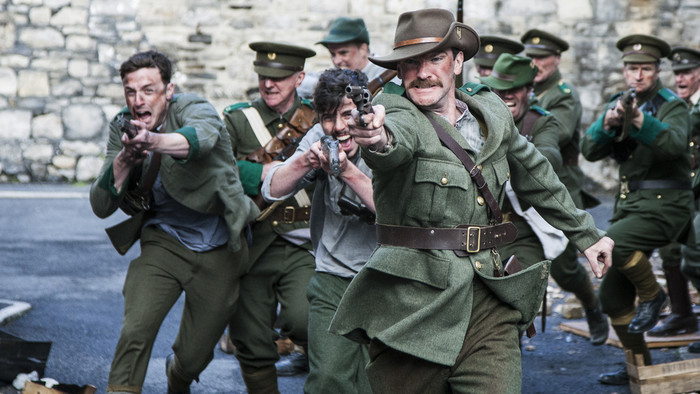 После '16

AFTER'16
Country: Ireland
Year: 2015
Genre: Drama
Language: English
Translation: russian subtitles
Time: 1 hour 54 minutes
Возраст: 12+

A Terrible Hullabaloo
9 minutes
Director Ben O'Connor
Producer Bob Gallagher
Script Aoife Noonan
Production Company Bowsie Workshop
The story of young Vinny Byrne, a fourteen-year-old boy who found himself fighting for Ireland in the Easter Rising. An eighty-year-old Vinny reminisces on his time with the volunteers, which took him around the city during the fighting. With Vinny's Dublin brought to life by handmade miniature sets and puppetry, the film offers a uniquely charming first-hand account of the 1916 Rising.
A Father's Letter
12 minutes
Director Joe Dolan
Producer Niamh Heery
Script Based on interviews by Sinead McCoole
Production Company Swansong Films
On the eve of his execution on May 7th 1916, Michael Mallin's two-year-old son Joseph was brought to see him in Kilmainham Gaol. That night, his father wrote a letter that would change Joseph's life forever. In it he tells family he loves them and asks his little boy to be a priest.
My Life for Ireland
14 minutes
Director Kieron J. Walsh
Producers Damien O'Donnell, Emmaline Dowling
Script Patrick McDonnell
Production Company Suitable Films
Ireland, Easter, 1916. In Dublin, Irish rebel Patrick Pearse leads a revolt to free Ireland from the grips of the British Empire. Owen, a young Irish patriot, wants to join them in their fight for freedom.
Granite and Chalk
12 minutes
Director Patrick Hodgins
Producer/Script Naomi O'Leary
Production Company NaomiCo
As rebels planned Ireland's 1916 Easter Rising, they were watched by two spies code-named Granite and Chalk. This documentary delves into British intelligence to tell their story, one century on.
Goodbye Darling
11 minutes
Director Maria-Elena Doyle
Producer Deirdre Levins, Fiona Kinsella
Script Alex Barclay
Production Company Fantastic Films, Jumper Productions
Goodbye Darling is one day in the enduring love story of Irish Volunteer Michael Joseph O'Rahilly and his wife Nancy. It is day five of the 1916 Rising, and as the fighting intensifies, a concerned Nancy seeks comfort and diversion by playing the piano, unaware that her husband is leaving the beleaguered G.P.O. to lead the charge that will ultimately claim his life.
Baring Arms
13 minutes
Director Colm Quinn
Producer David Clarke
Production Company El Zorrero Films
There are many ways to commemorate the 1916 Rising, only one involves bloodshed.
The Cherishing
14 minutes
Director/Script Dave Tynan
Producer Dave Leahy
Production Company Warrior Films
When The Rising starts the local sweet shops are the first to be looted by Dubliners living in the tenements. Noel and Tom race off and leave their mothers and sisters at home but the havoc of the next few days will come right to everyone's door.
Mr. Yeats & the Beastly Coins
12 minutes
Directors/Producers Ann Marie Hourihane, Laura McNicholas
Script Ann Marie Hourihane
Production Company 925 Productions
Ten years after the Easter Rising, in 1926, the Free State government decided to create a new coinage for the new state. They invited the most famous poet in the world, W.B.Yeats, to chair the design committee.
Behind-the-scenes battles were fought before the new coins became one of the most enduring success stories of the new Irish state.
The Party
13 minutes
Director Andrea Harkin
Producer Farah Abushwesha, Emmet Fleming
Script Conor MacNeill
Production Company Fleming Creative
Belfast 1972. Laurence welcomes his cousin and man-on-the-run Mickey to a party of drinking, dancing and young love. By morning, reality catches up with them.
Schedule:
20 March, Sunday
26 March, Saturday