Bolshoi Ballet 2014-2015
Dates:
26.10.2014-30.06.2015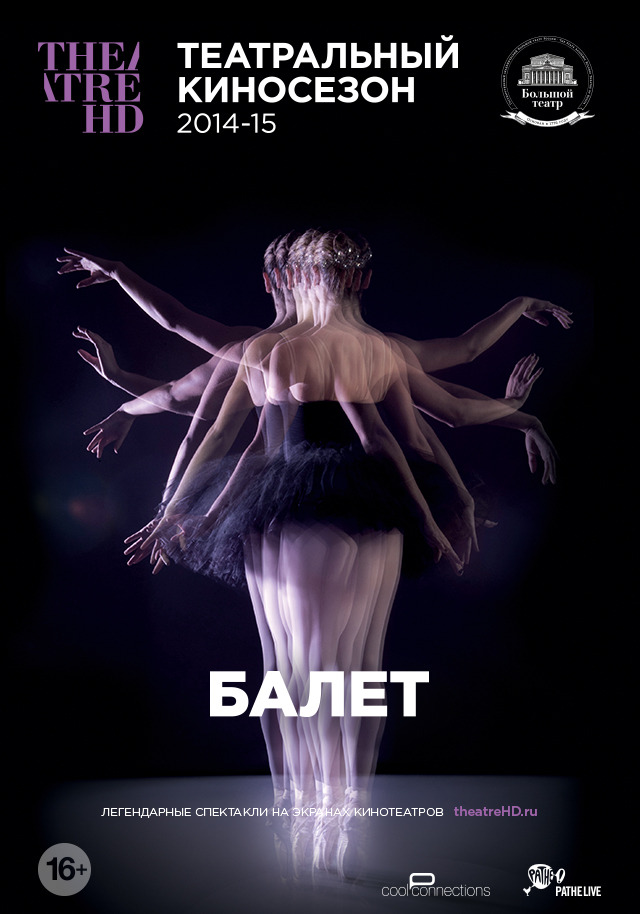 Choose city for details:
Лебединое озеро

Swan Lake
Country: Russia
Year: 2014
Genre: ballet production
Language: English, French
Translation: russian subtitles
Time: 2 hours 36 minutes
Возраст: 12+

Libretto by Yuri Grigorovich after scenario by Vladimir Begichev and Vasily Geltser
Choreographer: Yuri Grigorovich (2001 version)
Scenes in choreography by Marius Petipa, Lev Ivanov, Alexander Gorsky used
Designer: Simon Virsaladze
Music Director: Pavel Sorokin
Lighting Designer: Mikhail Sokolov
Act l
Scene 1
In an old German castle, the birthday of Prince Siegfried is being celebrated; today he comes of age. He is congratulated by his mother, the Princess Mother, friends and courtiers. In a majestic ceremony, Siegfried is made a knight. From this day on a sense of duty, valor will be the guiding principles in his life.
The last toasts are pronounced in his honor, young girls, his contemporaries, try to attract his attention, but Siegfried is overcome by emotions of a different order. He dreams of a pure, ideal love. The festivities draw to an end, the guests depart, leaving the prince alone with his thoughts in the gathering dusk. Night falls. Siegfried is conscious of the presence of a shadow at his side, it is as if some mysterious force is beckoning to him. It is the Evil Genius, or Fate itself, who has come to reveal some perturbing secrets to the Prince. Submitting to the powerful pull of his invisible companion's presence and full of anxious foreboding, Siegfried succumbs to the ideal world of his dreams...
Scene 2
Lured by the Evil Genius, Siegfried finds himself on the banks of a mysterious lake. In the shimmering patches of moonlight on the water, visions of bewitched swan maidens rise up before him. Siegfried catches sight of Odette, the most beautiful of the maidens. He is spell-bound, deeply struck by her beauty. At long last, he has found his romantic ideal of love. He swears to Odette that he will love her forever and be faithful to her.
Act II
Scene 3
Prospective brides-to-be are arriving at the Princess Mother's castle. The Prince must chose one of them to be his wife. But Siegfried can think of nothing but Odette and his meeting of her. He dances in an offhand way with the well-born maidens. Not one of them can compare to his ideal.
Suddenly, a mysterious knight arrives at the ball accompanied by a ravishingly beautiful young girl and a suite of black swans. It is the Evil Genius and Odile, Odette's double. Struck by their resemblance, Siegfried hurries towards Odile. The Evil Genius is putting the Prince's sentiments to the test. Siegfried is enchanted by the perfidious Odile who manages to disarm him of all his doubts. He announces Odile to be his chosen bride. At this very moment, the throne room is plunged in darkness and a vision of the beautiful Odette appears before the assembled company.
Siegfried realizes that he has become a plaything in the hands of Fate. Hoping to atone for his betrayal, he rushes in despair after the receding image of the white swan.
Scene 4
Night-time. A deep gloom overhangs the lake. Odette brings the tragic news; the Prince has broken his vow of faithfulness to her. Siegfried's conscience is deeply troubled; he hurries towards Odette begging for her forgiveness. Odette forgives the youth but she is no longer mistress of her own fate.
The Evil Genius summons up a storm which disperses, plays havoc with, the heroes of our tale, making it impossible for them to unite. Made weak by his single combat with Fate, Siegfried tries in vain to hold on to the vanish image. As dawn breaks, he finds himself alone on the empty banks of the lake of his dreams.
Images