2022
2021
2020
2019
2018
2017
2016
2015
2014
2013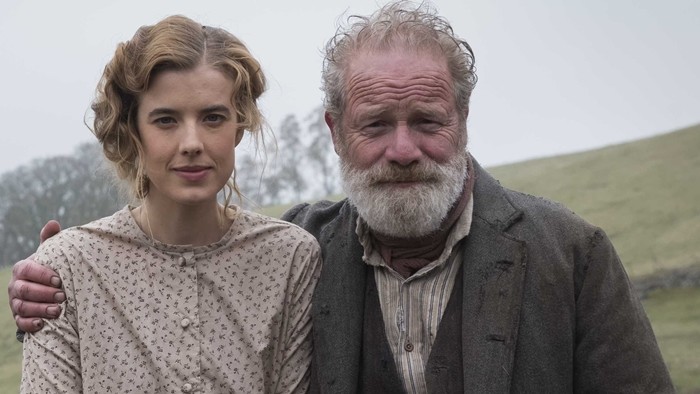 Песнь заката

Sunset Song
Countries: Great Britain, Luxembourg
Year: 2015
Director: Terence Davies
Cast: Peter Mullan, Agyness Deyn, Jack Greenlees
Genre: drama
Language: English
Translation: russian subtitles
Time: 2 hours 15 minutes
Возраст: 16+

Terence Davies is responsible for some of the most important UK cinema of the past forty years, each film a nostalgic labour of love. Sunset Song, the long-awaited feature adaptation of Lewis Grassic Gibbon's classic 1932 novel (a staple in Scottish classrooms), is another meditation on the past, delving into the life of a farming family in northeast Scotland. Exquisitely shot, each scene looks like an Old Masters painting as Davies applies his distinct "memory realism" style to a twentieth-century northern British milieu that many will recognize from the writer-director's previous films.
Scratching a livelihood out of the stunning but harsh terrain, the Guthrie family cowers in obedient fear of its brooding patriarch, a man prone to sudden and ferocious bursts of anger. As Guthrie's long-suffering wife retreats into silence, the film's attention shifts to his daughter Chris, a beautiful and intelligent young woman divided between her hatred for the coarse people in her village and her love of the landscape. Chris dreams, as does her brother Will, of freedom and escape. The first comes suddenly. The second is more complicated: the arrival of handsome young Ewan Tavendale into her life brings happiness, only for it to be disrupted by the Great War.
Davies depicts the growth of relationships, the aura of unexpected bliss, with incomparable sensitivity. He identifies completely with the world he creates in Sunset Song, inhabiting Chris' life and its challenges with a palpable love for the character. But he also knows that actions are never simple, nothing is permanent, and that the outside world is often unkind.
Awards and festivals:
London Film Festival - participation